Real estate and construction firms are hit the hardest by late payments
The construction sector has long been afflicted by late payments. Complex billing procedures and a lengthy payment chain mean that getting paid on time can be a challenge. The issue is becoming even more urgent given the pressure that the pandemic is putting on the sector.
In our latest European Payment Report 2020, over a third (35 per cent) of respondents are accepting longer payments in order to avoid bankruptcy. And it is businesses operating in the real estate and construction industry that are the worst affected: 41 per cent say they have accepted longer payments to avoid bankruptcy.
Over the past year, we have needed to accept longer payment terms in order to avoid the risk of bankruptcy (agree):
Late payments are threatening European businesses' ability to survive
The consequences of a pandemic related recession are intensifying the problem of late payments among European companies. Reduced revenues are hindering companies' growth and, in some cases, threatening their survival.
More than 4 in ten companies within the real estate and construction sector say problems of late payments have a high impact on their business when it comes to threat to survival.
Respondents who say late payments have a high impact* on threat to survival of their business: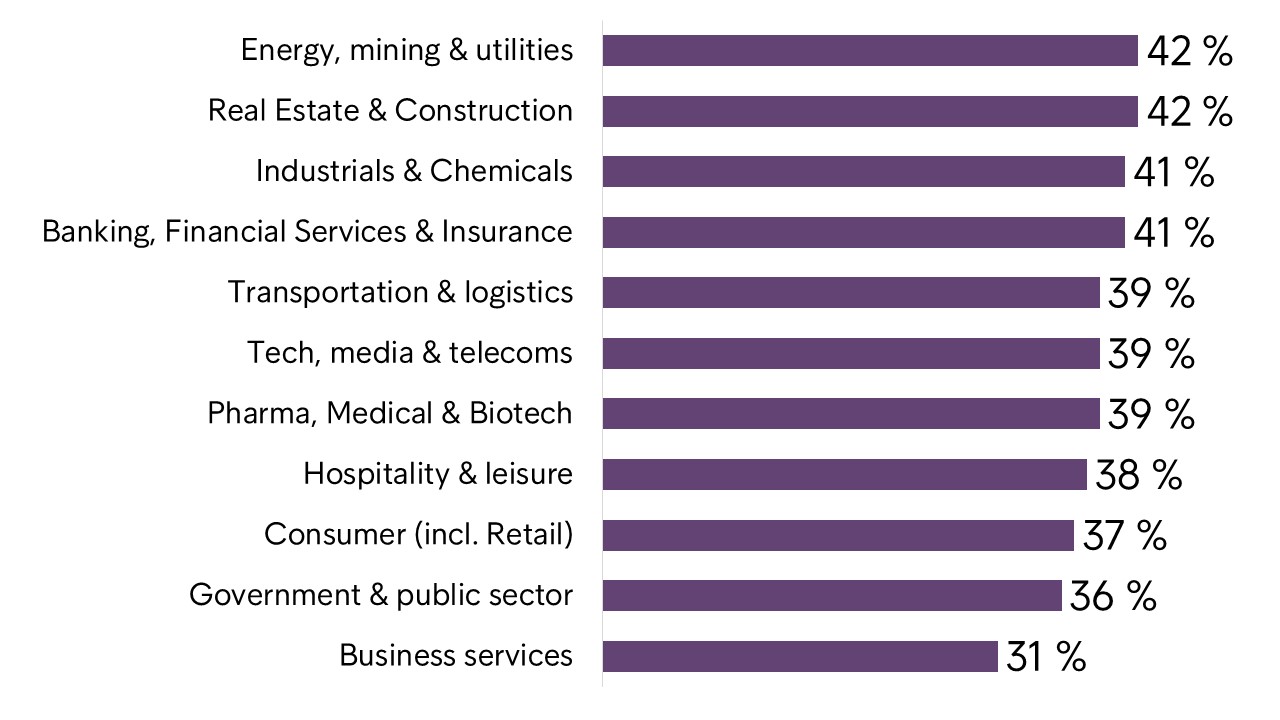 Yet few businesses are taking action against this growing problem
Despite their need for payment, many firms are reluctant to challenge unfair practices for fear of losing business or tarnishing their reputation. That applies to 73 per cent of businesses within the real estate and construction sector; across sectors, the European average is 69 per cent.
We have accepted longer payment terms than we are comfortable with, as we did not want to damage client relationships (agree):
In the current environment, improving debt-recovery programmes will be key to building long-term customer relationships, according to the head of recovery at a major Southern European bank. "When a customer has a problem with the payment, this should not be viewed as the end of the relationship," he says. "It is the start. An effective recovery strategy will build loyal customer relationships in the long-term."
Meanwhile, Fabrizio Trinei, Italian Credit Manager at Avis Budget Group EMEA, describes the importance of agility in the strategic response to Covid-19. "We need to think quickly, on our feet, and respond with the correct strategy," he explains. "We need to balance the need to secure our credit with maintaining customer loyalty. This is a difficult line to tread, but crucial to get right."
About the survey:
The report is based on a survey that was conducted simultaneously in 29 European countries between 14th February and 14th May 2020. A total of 9,980 companies across 11 industries in Europe participated in the research.