Education begins at home – how Intrum helps consumers, clients and employees
At Intrum we believe education is important for financial stability and independence for consumers, but we also strive to provide resources for our clients and employees to extend their knowledge. This UNESCO International Day of Education, we're highlighting some of the initiatives we have put in place so far…
Consumers
From the 250,000+ conversations we have every day, we know when and how consumers are struggling. We listen to their stories as we work with them to find a solution. Their wellbeing matters to us, so as well as the daily process of going through each individual's income and expenditure, we make sure we share as much of our knowledge on debt and financial management as possible.
We regularly publish advice articles as well as engaging in other initiatives, such as the competition Intrum Hungary is currently running to increase financial literacy.
Spendido
In Sweden, Germany and Austria, our interactive online lesson Spendido helps students and teachers in secondary and upper secondary school learn how to manage their finances.
Young people are vulnerable to getting into financial difficulty because they lack experience in payments, so Intrum aims to equip them with the foundations they need to manage their money effectively.
Credit is an important part of life but it's easy to get carried away and take on debts you cannot manage. Spendido helps teachers show students the true cost of credit and the consequences if you cannot pay it back. We hope this enables them to feel confident in their finances so they can enjoy their lives without the worry of bad debt and achieve their ambitions.
Karolina Castillo, Intrum's Global B2C Marketing Manager
Financial Education Guide
Intrum Spain has created a free Financial Education Guide, now in its second edition, to educate young people. Created with older secondary students in mind, the guide tackles a range of subjects that affect young consumers, such as the risks of online gambling, investment in cryptocurrencies and the importance of saving. In addition, Intrum runs in-person financial education workshops for students.
Financial education facilitates effective financial decision-making. The global instability we are experiencing shows that consumers, more than ever, need sufficient knowledge to manage their finances. At Intrum, we have a unique perspective on this and it is important that we share it.
Rehabilitation and personal finance
In Norway, Intrum works with the Red Cross to train prison inmates in money and debt management. Every year, we run 15-20 courses for inmates, correctional staff and volunteers in prisons. The course helps inmates understand how they can live with debt and manage their finances – including a plan for them to become debt free.
"This is meaningful work and it is close to our hearts," says Camilla Gulsett, Sustainability Officer for Intrum Scandinavia. "We believe individuals should be seen and heard, and given the tools to make a difference to their lives. We are transparent about the process of debt collection and aim to help people reduce debt problems and reclaim their lives."
Our clients
As well as helping their customers, we keep our clients informed of trends, developments and best practice in debt collection. Many of them choose Intrum because of our long track record and extensive knowledge in this specialist sector. Our focus on this area of finance means we can invest in the very best tools, technology and research to develop our services. We see it as our duty to share these insights.
In-depth research
Every year, we publish the European Payment Report and European Consumer Payment Report at a country and European level. These reports deliver insight from 11,000 businesses and 24,000 consumers across 24 countries and their longevity means we can track trends over time and compare results year on year.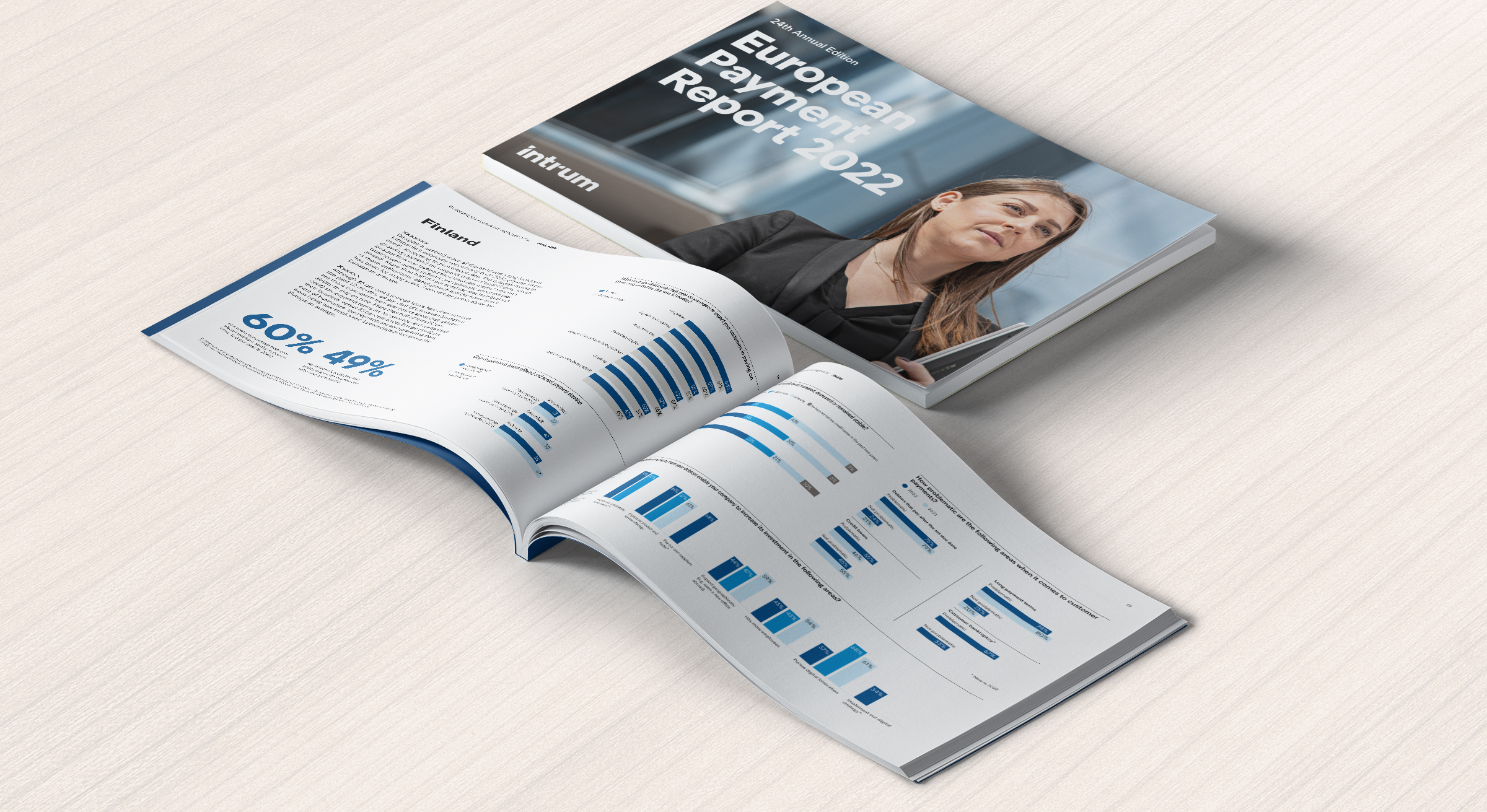 Data collection is conducted by an independent research company simultaneously in all markets. This data is analysed, translated and presented to our clients, government bodies and media. This gives these organisations a window into Intrum's expertise and depth of analysis as well as the chance to put their own situations into a wider context.
Thanks to its broad portfolio of financial services, its extensive industry know-how and expert knowledge, Intrum can respond to our needs very flexibly. 
- Volker G.  - Chief Risk Officer - Cembra Money Bank AG
Economic insight
On a day-to-day basis, Intrum benefits from the knowledge and analysis of in-house expert Anna Zabrodzka-Averianov, our Senior Economist. As well as informing our work behind the scenes, her expertise is directly available to our clients.
Every other month, she delivers a comprehensive analysis of ongoing macroeconomic trends in our Economy in Focus publication, placing them in context and giving our clients the insights they need to understand the impact on their company and their customers.
Articles and opinions
Intrum has more than 100 web pages dedicated to clients and their concerns. These are packed with articles and information about debt collection – including thoughts on how to manage customer relationships to reduce bad debt; tips for in-house debt collection; expertise on when to outsource; and how to create a successful outsourcing partnership. In 2023, we'll be extending our industry reports and white papers to give even greater depth and insight.
We want our customers to become our fans. In order to achieve this, we need to focus on the core processes and at the same time have partners who carry out the ancillary processes we have outsourced with the same mentality as we do. We are convinced that we have found such a partner in Intrum.
- Sibylle V. - Chief Operating Officer - enersuisse AG
Employees
Diversity and inclusion – Together we bring out the best in each other
Intrum promotes a diverse workforce and benefits from different perspectives, cultures, and innovative minds. The culture of continuing to strive for greater diversity means we are building a stronger workforce every day.
Proactive efforts in diversity and inclusion are guided by our HR policy and Code of Conduct, which together provide the basis on which all employees have their fundamental freedoms and rights as individuals. To ensure clear anchoring at management level, diversity and inclusion are also integrated in our employee strategy and included in our leadership principles.
Through education and continuous reflection, we are constantly resetting and tracking our goals and ambitions in this area, learning together.
Learning English to connect with colleagues globally
As Intrum's common language is English, we have launched an English Proficiency Campaign, offering all employees the opportunity to improve their English. The programme is open to beginners as well as fluent speakers who are keen to develop and maintain their language skills.
Online language learning partner Learnlight offers each participating employee a digital assessment of current skills, followed by a course that includes e-learning modules, group conversations and writing support. This is available in 16 languages, 24 hours a day.
This initiative aims to equip employees with a life skill, improve communication between markets and encourage a greater understanding of foreign cultures and etiquette.
Are you interested in a summary?
Get your copy of Intrum's educational initiatives