Intrum's Annual and Sustainability Report for 2022
Today we published the Annual and Sustainability Report for 2022 – a challenging year for Intrum, our industry and the economy at large. In turbulent macroeconomic times, Intrum plays a central role in ensuring the sustainability of the financial ecosystem. Our market leading business platform has, during the year, showcased its fundamental strengths and delivered strong financial performance.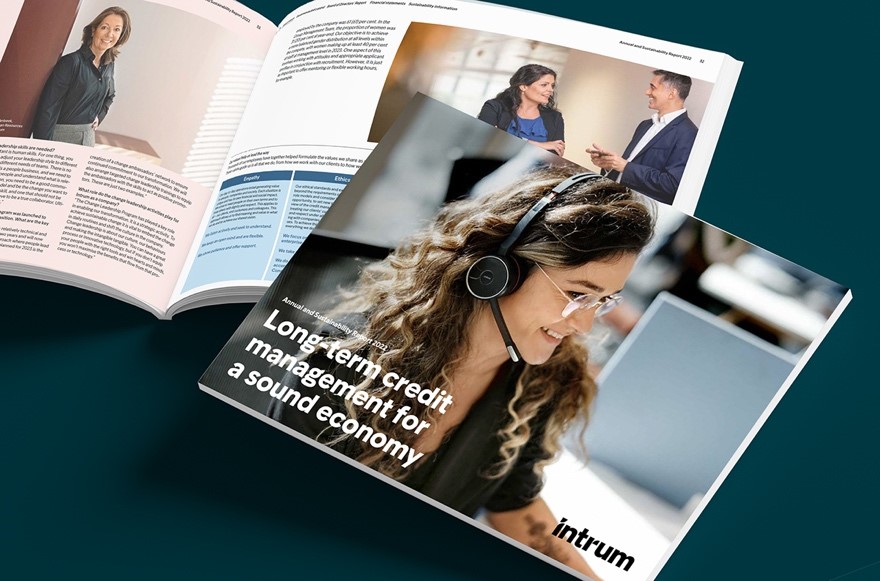 Events during the year
Intrum's well-diversified business platform stands strong

Intrum's resilient business model demonstrated its strengths, with all segments positively contributing – particularly in Strategic Markets and Portfolio Investments. Intrum delivered in line with normalised seasonal patterns. On the commercial side, Intrum won servicing contracts with a 36 per cent higher annual value compared to 2021.

Securing a sustainable financial value chain

Intrum has continued to play an important role in contributing to a well-functioning financial ecosystem. During 2022 alone, we helped 4.2 million individuals to regain control of their finances and become debt-free with Intrum. In accordance with our "Treating Customers Fairly Instruction", we aspire to shape an industry best practice for others to follow. Since 2016, we remain committed to the UN Global Compact and we continued the journey to integrate its 10 sustainability principles into our business.

Transforming for full potential scale and efficiency

Our transformation programme continued to progress with Intrum establishing simpler, more data-driven processes whilst also migrating additional portfolios to the global collections system. Transforming the operating model will strengthen client and customer value, and ensure a more efficient credit management platform over time – balancing global scale and local market knowledge. So far, annual savings realised from the transformation program amount to SEK 290 M.

Focus on accelerating the commercial agenda

In August, Andrés Rubio was appointed as acting CEO and President of Intrum with the assignment to accelerate Intrum's commercial development and long-term competitiveness. The fundamental and strategic priorities remain unchanged – profitable growth based on a client and customer-centric approach. Going forward, key themes are – Simplify & Focus and Grow & Transform – through which we aim to drive the commercial development of Intrum.
In a time of uncertainty, Intrum plays a central role in a well-functioning financial system, especially when the economy is undergoing dislocation and seeking a new equilibrium. Despite the challenging economic environment in 2022, we showcased the fundamental strengths of our market leading business platform and organisation. With this solid foundation, we look forward to building a stronger Intrum and accelerating commercial development in 2023 and beyond.
Andrés Rubio, President and CEO of Intrum
Download the 2022 report
Download Intrum's Annual and Sustainability Report 2022 from below.
To request a hard copy, please forward your request to ir@intrum.com