Spanish businesses most positive in Europe towards predictions of a cashless society within two years
Card and mobile app payments are becoming widespread, but Intrum's latest survey of 10,000 companies finds varying views about the likelihood of a cashless society across European countries.
Advances in digital technology have led to a significant rise in the number of payments made by card and mobile app in recent years.
In Sweden, the trend towards a cashless society is evolving quicker than expected. A Swedish Riksbank survey found that card transactions increased by 25% between 2016 and 2018, at the expense of cash payments. In 2017, debit cards overtook cash as the most frequently used payment method in the UK.
As consumers in many countries live a more cashless life, this has prompted some observers like Leo Van Hove, Professor of Economics at the Solvay Business School of Vrije Universiteit Brussel, to highlight the need for a roadmap to handle the transition to a cashless society.
Though many consumers started to adapt a cashless lifestyle through contactless payments and online shopping even before the outbreak of the Covid-19 pandemic, our latest survey displays a split among companies on whether a cashless society is realistic in their country.
Geographical and cultural differences
Close to one in three (28%) of European businesses in our survey believe their country will become cash-free within the next two years. More than half (57%) believe it happen within five years.
When do you think your country will be cashless? (European average)
Interestingly, the prediction of a cashless society in Europe does not follow the traditional 'north-south' regional divisions that many might think would be prominent, with many fin-tech companies established in the Nordics and a cultural tradition of handling cash in the southern part of Europe.
With 42% agreement, our survey shows that Spanish businesses are the most positive in Europe towards the prediction of a cashless society within only two years. A quarter (27%) of Portuguese companies stated the same.
On the other side, Nordic businesses are more careful than many other European markets in predicting a cash free way of handling transactions. A larger share of the Nordic countries believe it will happen within five years; 68% of Finnish businesses believe this, followed by 67% Swedish and Danish companies and 66% of Norwegian firms. 
Respondents who say they believe their country will be cashless within two years (split by countries)
Businesses in countries where cash still has a strong position as a payment option, like in the Benelux countries, are more doubtful about the possibility of a cashless society – 69% of Czech companies and 51% of Dutch companies believe it will never happen.
Companies concerned about exposure to cyber-attacks
A possible cashless society would impact businesses in a number of ways. Advocates for cashless payment solutions point to several advantages; cash-free businesses are less prone to violent crime, while cashless payment solutions can provide more data on customer preferences and make it easier and quicker for customers to pay invoices within the due date. This could in turn reduce the risk of late payments.
On the other hand, our survey shows that close to six in 10 companies believe a cashless society would make them more vulnerable to cyber-attacks. But close to half (47%) say it will have a great impact on the efficiency of their payment routines and accounting.
On a scale from 1-5, where 4 and 5 are considered as high impact, how do you think a cashless society would impact your company in relation to the following areas? (split by company size)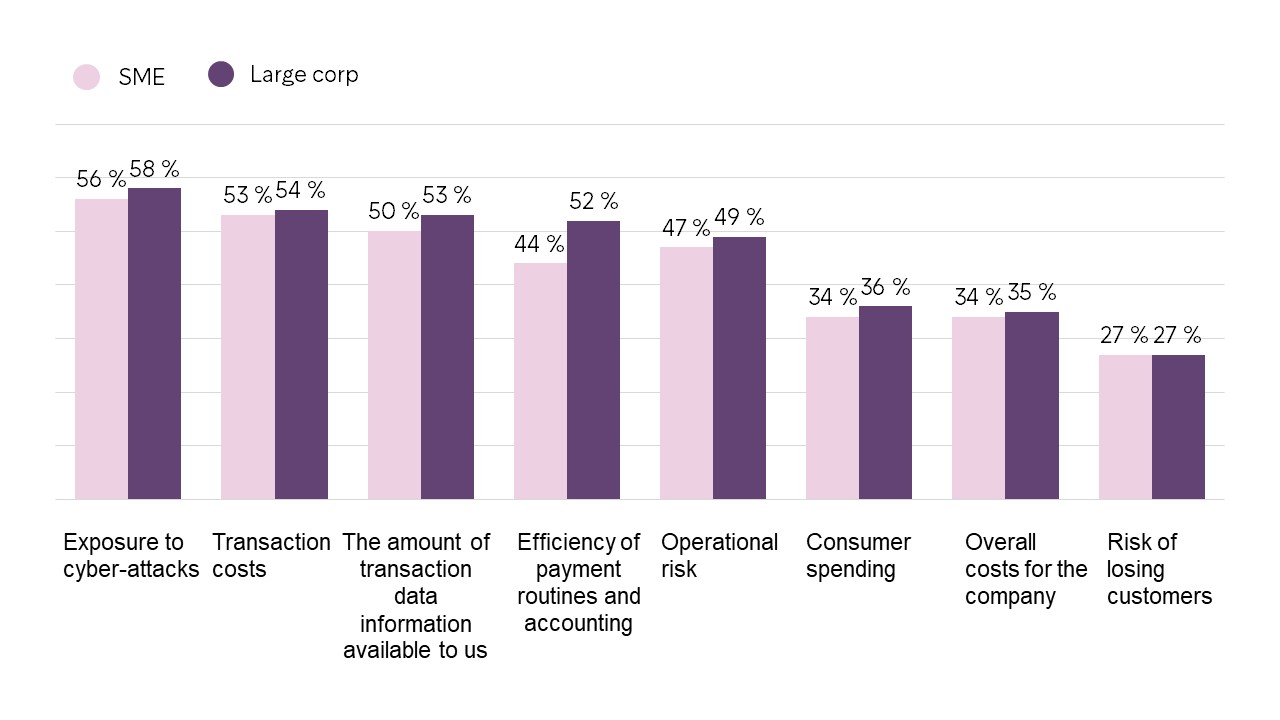 Concerns about cyber-attacks seems to be most prominent among companies in The UK and the Nordics; all rate this as the biggest issue when it comes to the impact of a cashless society.
Respondents who say exposure to cyber-attacks will have a high impact their company (split by countries)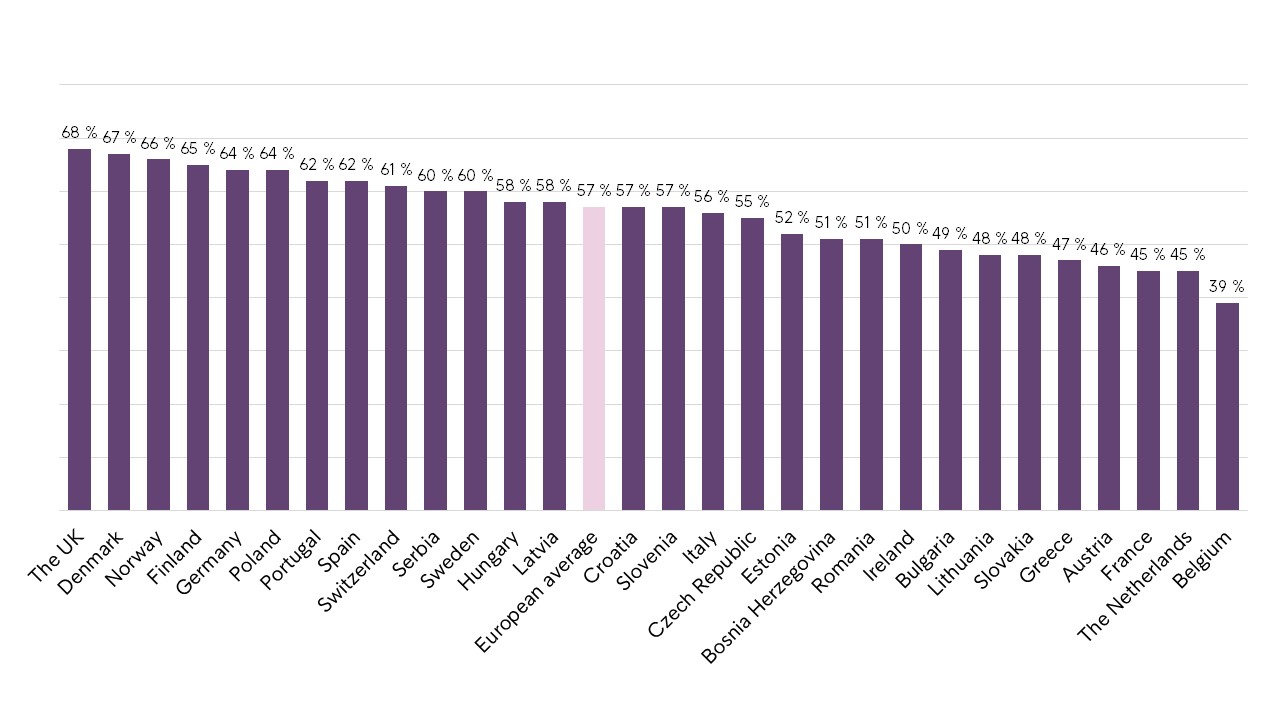 Momentum shifting towards cashless payments as a result of Covid-19
Overall though, the momentum seems to be shifting in favour of cashless payments. According to the European Central Bank, there were 90.7 billion non-cash payments in Europe in 2018, an increase of 7.9% compared with the previous year.
The Covid-19 outbreak may also be tipping the balance further. It has made businesses, particularly in the hospitality & leisure sector as well as retail, open up for cashless solutions due to hygiene concerns.
Meeting the risk of falling demand resulting from the pandemic has added to the persistent issue of late payments for Europe's companies. New technologies, such as credit and payment collection software, can increase efficiency in the debt collection process and build stronger client relationships.
Read more about how Intrum can help your business with late payments.
The article is based on insights from Intrum's European Payment Report 2020, describing how late payments impact 10,000 companies across 29 countries in Europe. Download the report here.