"Our strength lies in being the largest player"
Viktor Lindeberg, Head of Investor Relations, is convinced that communication with the capital markets can be further strengthened. Improved and clearer information to generate a better understanding of the business is a project that has already been launched and that will continue in 2020.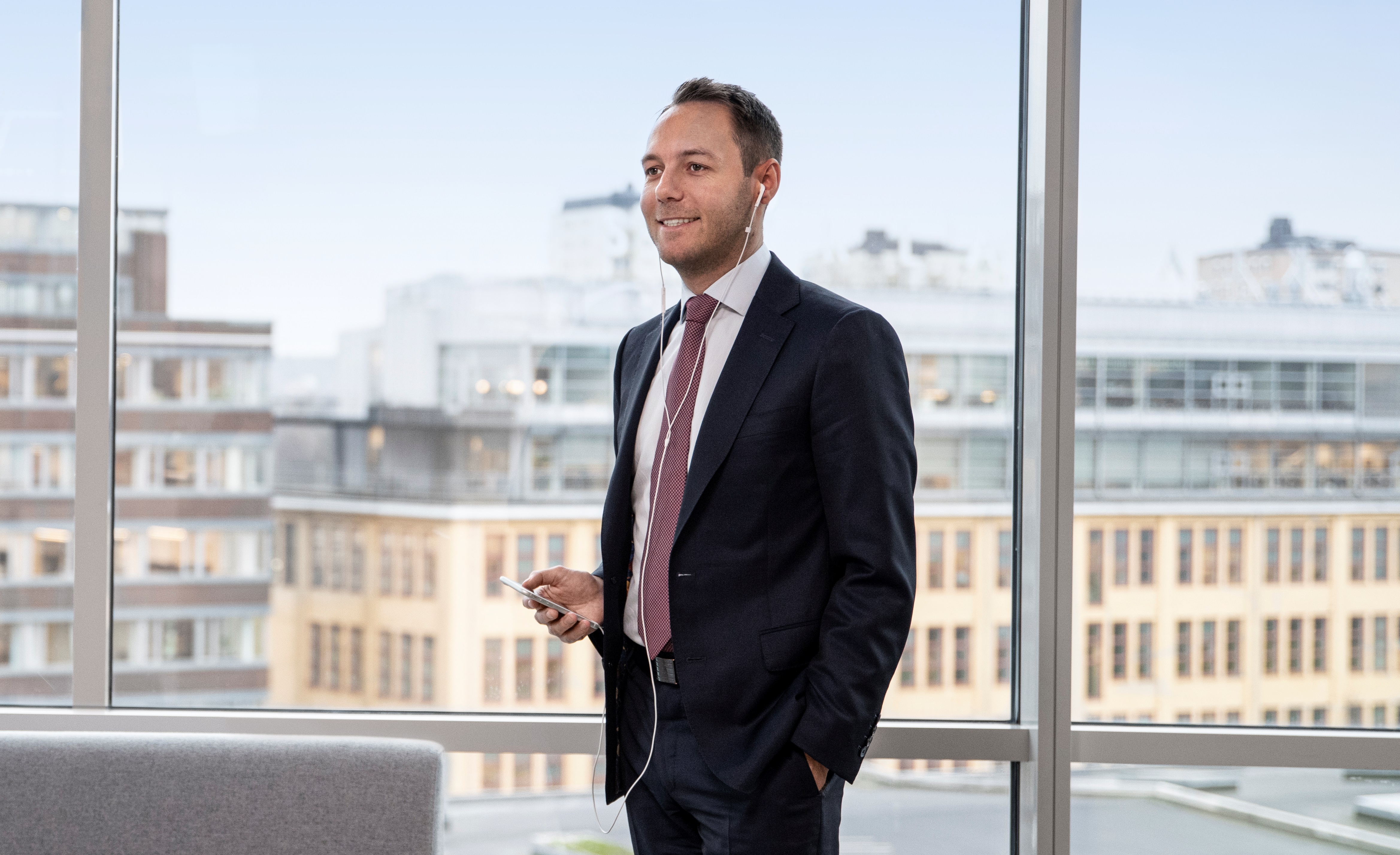 What makes Intrum a good investment?
"Although we let the market make its own assessment of the share, our strengths include being the largest industrial player among credit management companies and purchased debt companies. We have extensive experience of handling late payments and, in relation to our industry colleagues, we also have the largest balance sheet and greatest profits, we have the broadest geographical presence and also hold the strongest position in most of the countries in which we operate."
How do you benefit from having both credit management and purchased debt operations within the same company?
"We benefit from the different pillars of our business in several ways. For us, our clients and their needs are fundamental. There are times at which clients may need to sell a portfolio and we are then ready to be of service in that regard. If, on the other
hand, a client has a different strategic focus and instead seeks assistance in servicing a portfolio of overdue receivables, we are able to be of assistance with that too. Our size allows us to hold strategic discussions that few others can."
How does this diversification benefit investors?
"Our presence in numerous countries reduces our dependence on individual markets. In addition, one part of our operations generates strong free cash flow while the other is more capital intensive. With the portfolio investment operations partly being financed through loans, we are pleased that our diversification affords us competitive financing terms, further strengthening our market position. Strong cash flow has also enabled us to pay rising share dividends, while at the same time reinvesting and expanding our portfolio operations."
Why do you think Intrum's share has been one of the most short-traded on the Stockholm Stock Exchange?
"If you take a negative view of the sector, Intrum's share is the easiest to sell short. That's because our shares are more liquid. Looking at Intrum more specifically, some believe we have been a bit too expansive and are negative towards Intrum for that  reason. In the latter case, the burden of proof lies with us and I believe we can improve at conveying a more accurate
picture of us to the market."
You stepped in as the Head of IR in 2019. What is your plan for the future?
"There are areas in which we can improve further regarding how we communicate. We want to facilitate the market's  comprehension of Intrum and, after a period of strong growth and expansion, are confident in what we do. In turn, this involves, to a certain extent, how we present the Company and its accounts. Accordingly, we have initiated a project to improve the level of detail in the accounts, as we will demonstrate in 2020."
Interesting facts
Intrum's principal shareholders

The private equity company Nordic Capital owns 57.7 million shares, corresponding to 44 percent of the votes (2019). Nordic Capital is an active shareholder, represented on Intrum's Board of Directors.

Contacts with shareholders and bond investors

Intrum generally meets its shareholders in connection with the quarterly reports. For credit investors, dedicated road-shows
are presented, as in connection with the refinancing of Intrum's bonds in the third quarter of 2019, for example.

What bondholders and shareholders want to know

In simple terms, credit investors generally focus more on risk and equity investors more on potential. Common to both is that they closely monitor both the financial targets and the key figures.
Read more about our journey and the steps we have taken to further consolidate our market-leading position in Europe in our Annual and Sustainability Report for 2019.