Holding back happiness
Money can't buy happiness but financial difficulties do cause stress and stop people from living their lives to the full. On the United Nations' International Day of Happiness, Intrum looks at ways consumers can protect and improve their financial wellbeing.
When it comes to happiness, social, economic and environmental wellbeing are indivisible from each other, according to the United Nations (UN). In 2012, the UN General Assembly proclaimed 20 March the International Day of Happiness – recognising the importance of happiness and wellbeing as universal goals and aspirations in the lives of human beings across the world.
Healthy finances are a key element of wellbeing. Being in control of our money enables us to look after ourselves and our families, meeting essential needs as well as working towards wider goals. Intrum's research shows that financial difficulty can have a significant effect on general wellbeing. Even the expectation of future financial problems can have a negative effect on life today.
Financial worries expanding
In Intrum's 2022 European Consumer Payment Report, almost six in ten (58%) of the 24,000 people surveyed said their concerns about rising bills are having a negative effect on their general wellbeing.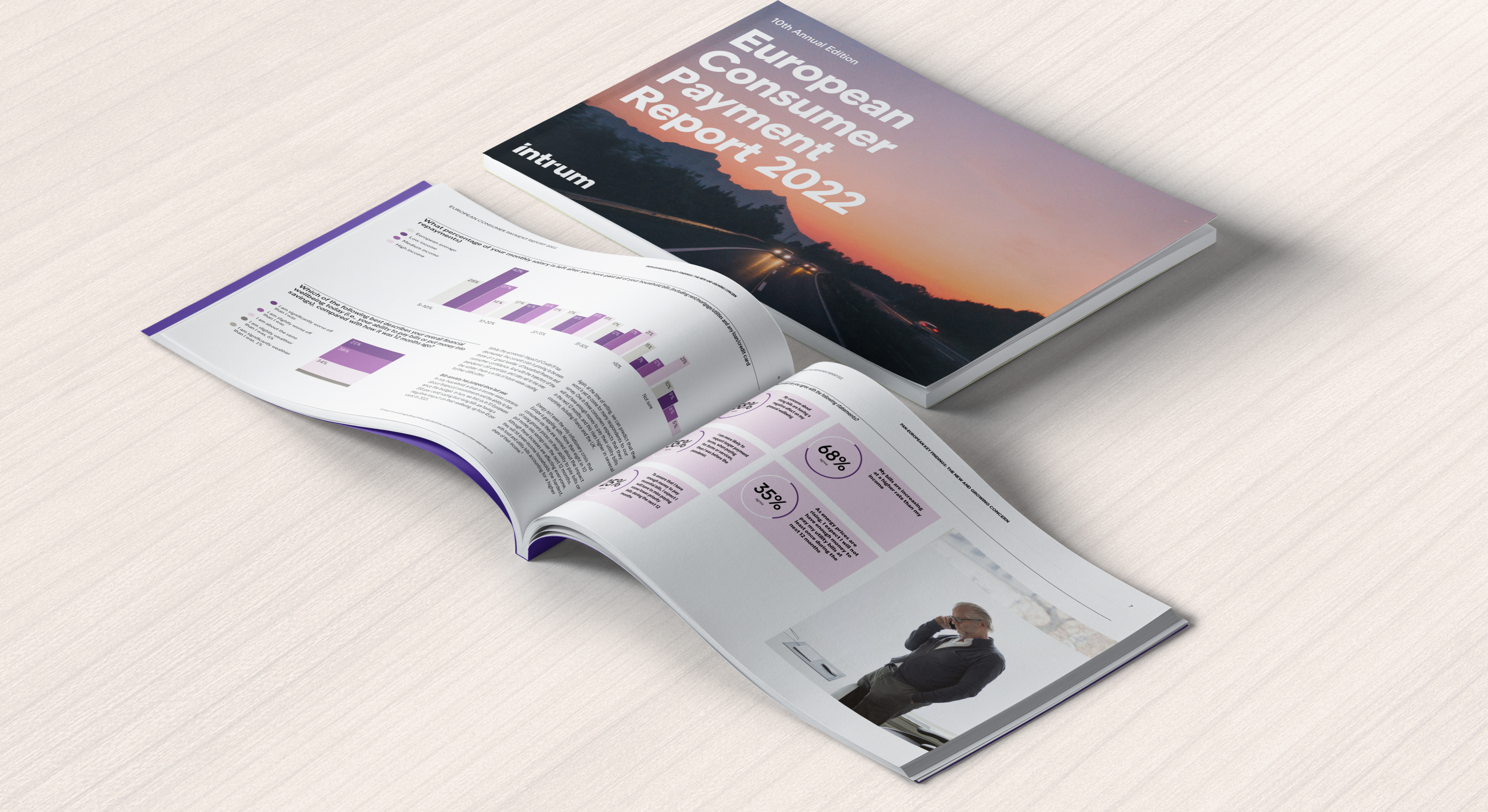 Consumer worries are spreading as the decade-long trend of rising house prices falters. According to Eurostat, this is particularly acute where there are high levels of household debt, such as in the Nordic countries of Norway, Sweden, Denmark and Finland.[1]
In Intrum's report, eight in ten said they are worried about rising grocery prices (82%) and the rising cost of fuel and energy (80%). High interest rates are also causing sleepless nights. More than half (59%) said their financial wellbeing had worsened compared with the previous year.
Poor financial education exacerbates worries about the future, with a quarter of those who only understand the basics of their finances saying they are worried high inflation will last forever. This compares with 14% of those who are confident in managing financial matters.
To increase your level of happiness in general, it makes sense to get to grips with your finances and improve your knowledge in this area.
Financial worries are not neatly divided from the rest of our lives. We know from speaking to our customers that these problems affect other aspects of life and damage their wellbeing – even exacerbating or causing mental health difficulties.
However, our research also shows that difficult times, such as Covid-19 and the current cost of living crisis, motivate people to take control of their finances. At Intrum, we believe the best way to combat financial stress is to face up to the problem, seek help and learn how to better manage your money. There is always a way out of difficulty.
Financial education
Financial education is a key element of financial wellbeing. Learning how to set a budget, control spending and save money for unexpected expenses are important skills, regardless of income level. At Intrum, we have created an easy-to-use and free-to-download budget template that you can start using today.
If you're receiving debt collection letters or have fallen behind on your payments, it's important to face up to the problem and speak to your lenders to find a resolution. It may seem frightening, but every day we speak to consumers who are relieved that they have had the courage to pick up the phone or log onto the online portal. Don't be afraid to reach out.
How to improve your financial education…
Learning to manage your money doesn't have to be dull. There are many ways to improve your knowledge – learning alone or with others. Here are some ideas:
Read books and articles: many people enjoy reading books and articles on personal finance, money management, and investing. Knowledge is powerful and enables you to take control.
Podcasts & social media: There's so much content out there to learn more about personal finance. Podcasts and social media platforms offer the latest insight and expertise.
Attend financial workshops and seminars: banks, credit unions, and financial institutions offer workshops and seminars where you can learn about budgeting, saving, and investing.
Use online resources: financial planning and budgeting tools, investment calculators, and online courses are all available online – dip into these when you need them.
Join a financial education program: look online or in your local area to see what initiatives are on offer. These programs offer structured learning and support. You may also meet other people on the same journey.
Consult a financial adviser: a financial adviser can help you create a personalised financial plan based on your goals and risk tolerance. As you build up savings, more options will open up to you.
[1] Sources: Eurostat: House price index (2015 = 100) - quarterly data, Gross debt-to-income ratio of households (2021).