Sustainability: a casualty of economic distress?
With consumers fighting to keep their heads above water this winter, evidence suggests sustainability efforts may be hampered by the need to cut costs.
Consumers are anxious about their financial wellbeing and the economic outlook, with many saying they may be forced to default on essential bills in the next 12 months, according to Intrum's 2022 European Consumer Payment Report.
The survey of 24,000 people across Europe found that 67 per cent of consumers would like to buy more sustainable goods and services but are finding it difficult to do so because of the rising cost of living. This is up on last year's survey when 58 per cent said they struggled with the cost of sustainable products.
Inflation and living costs squeeze the socially conscious
Because of inflation and the rising cost of living, 61 per cent of consumers say they now struggle to pay a premium for sustainable products. This is worrying news and a trend that spreads to charitable giving. A fifth of those surveyed (20 per cent) are giving less to charity as they change their spending behaviour.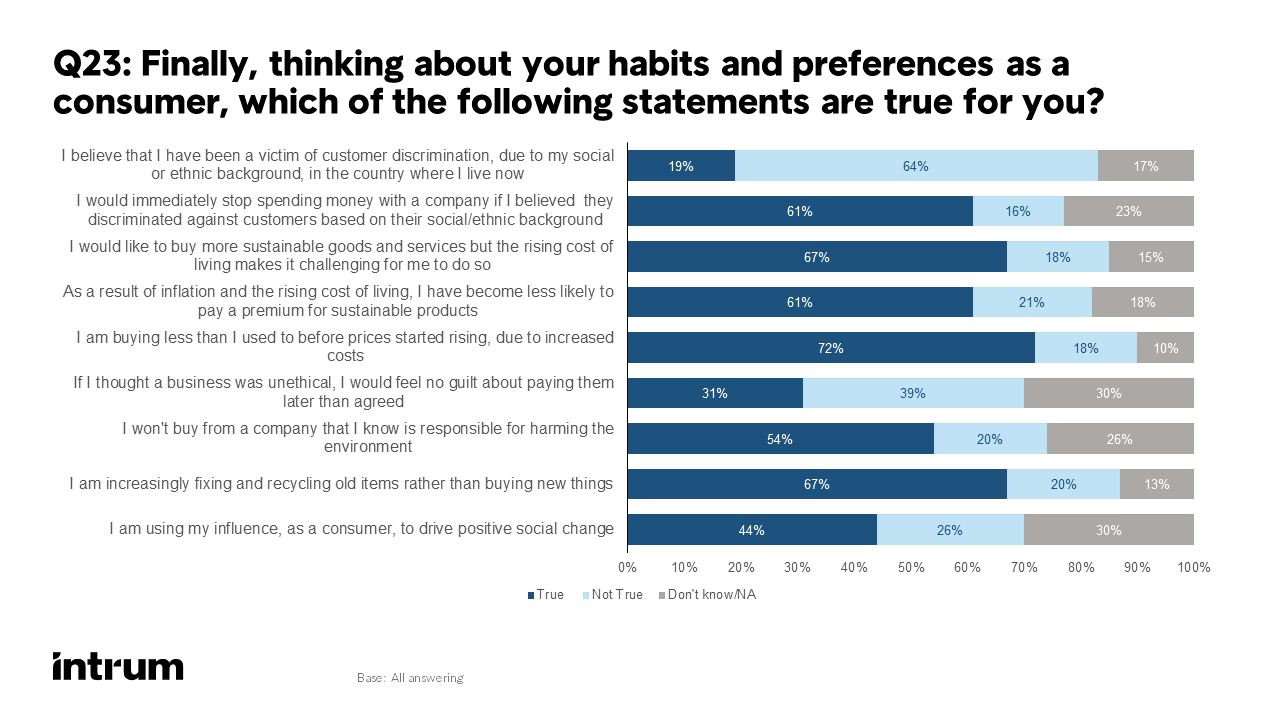 The cost-of-living crisis and geopolitical situation are, understandably, occupying a large amount of policymakers' time and attention. With the battle against climate change also at a crucial point, however, sustainability must remain high on the agenda.
Vanessa Söderberg, Global Sustainability Director at Intrum
"Consumers say they are less able to pay a premium for sustainable products, raising the bar even higher for governments and businesses to ensure their own targets and commitments are kept," says Vanessa Söderberg.
The survey shows that sustainability is less important in customers' minds than it was: 20 per cent said they are limiting their spending because of their interest in sustainability. This has declined drastically since 2021 when 46 per cent said the same.
Positive sustainability trends remain
It's not all bad news for sustainability. As consumers struggle to afford things, almost three-quarters (72 per cent) say they are buying less than they used to before prices started rising and 67 per cent are increasingly fixing and recycling old items rather than buying new items.
Likewise, 61 per cent of consumers say they would immediately stop spending money with a company if they believed it discriminated against customers on the basis of their social or ethnic background. More than half (54 per cent) won't buy from a company that they know is responsible for harming the environment.
Consumers are keen to do the right thing but this could become increasingly difficult as they face hard choices about where to cut back. As well as taking care of the environment, there is an urgent need to protect the most vulnerable in society.
Vanessa Söderberg
Read the full report
The insights from this article are based on the European Consumer Payment Report 2022. You can download the full report below.